Bowdoin House Concert Series
The Bowdoin House Concert Series occurs every now and then. In the last couple years, Pam has hosted Kevin Burke, Ten Strings and a Goatskin, Lisa Ornstein and Le Bruit Court dans la Ville, Grainne Hambly & Billy Jackson, David Greely, Raz de Maree, the Nordic Fiddler's Bloc, Andrea Beaton, Keith Murphy and Becky Tracy, Jeremiah McLane and Tim Cummings, Brendan Taaffe, Anita MacDonald and Ben Miller, Pete Sutherland, more.... The concert is almost always preceded by a jam session and potluck, and often socializing continues afterwards. It's always TOP talent and always a great time!! Reservations are encouraged for all concerts, to reserve a seat or for more info: Pam - pam@pamweeks.com, or call 207-666-3709
French folk traditions from two ends of North America meet in the middle! "Zigue" from Quebec! Claude Méthé and Dana Whittle (Quebecois fiddle, guitar, foot percussion and song) join with Cajun fiddler David Greely for an intimate house concert.. - Jam session 5PM, followed by potluck dinner (bring a dish or a beverage). Concert 7-9PM Donation $20 (kids $10)
A trip inside two French traditions – from Louisiana to Québec – on fiddle and in song
Veteran fiddlers David Greely (Louisiana) and Claude Méthé (Québec) invite you to connect the dots between their two vibrant traditions. For a quarter of a century, these two award-winning "porteurs de tradition" have made their mark as players and cultural ambassadors on both sides of the border. Accompanied by guitarist-singer-foot-percussionist Dana Whittle, they offer up songs and music that illustrate the respective differences and similarities of their dual French/North American roots. Don't miss this chance to discover the magic of these living traditions in real-time.
David Greely
David Greely was born in Baton Rouge of Cajun and Irish ancestry, and learned Cajun music on dance hall stages throughout South Louisiana, in the archives of Cajun and Creole music at the University of Louisiana in Lafayette, and from his apprenticeship to Cajun fiddle master and National Heritage Fellow Dewey Balfa. As a founding member of Steve Riley and the Mamou Playboys, David toured folk festivals worldwide, and has for years been assembling a repertoire of uncommon Cajun music. He uses old and rare tunes, new companion pieces, and creates striking new melodies that meld Cajun roots with fiddle sounds he's heard in his travels, arranging them with novel instrumentation and rich harmonies. David has been nominated for four Grammy awards and has received the Louisiana Artist Fellowship Award for Folklife Performance. He is an adjunct instructor of Cajun fiddle at the University of Louisiana. More info about David is available at davidgreely.com.
"David Greely of Steve Riley & The Mamou Playboys is a mad genius, magic fiddling man. Like some cultural scientist conducting precious musical experiments in a secret laboratory… he mines a cappella ballads, poetic narratives, intricate waltzes for a wealth of emotion and nuance." Dege Legg, the Lafayette LA Independent
Claude Méthé
Born in Québec City, fiddler-singer Claude Méthé has been a part of the traditional music world in Québec for more than thirty years. A self-taught fiddler, his style reflects his influences and the eighteen years he lived in the region of Lotbinière, on the south side of the St-Lawrence river not far from Québec City. Claude is a former founding member of the legendary Le Rêve du Diable, winner of a 1983 Felix for Trad Album of the Year, and a group often credited with singlehandedly reviving public interest in traditional Québécois music. Claude is well-known for his work with other trad bands, including Manigance, Ni Sarpe Ni Branche, Entourloupe, Jeter le Pont and Dentdelion). He has played all over Canada, in Europe and the U.S. He is heir to the repertoire of his longtime mentor and friend Aimé Gagnon, who died in 1997. Claude lives in the tiny village of Ste-Béatrix, in Lanaudière, the heart of what is arguably the hotbed of traditional Québécois music.
"Uniting a remarkable interpretive quality with a flat-out rejection of any sort of pretentiousness and no concession to modernity… proof that real music can't be reduced to a fashion formula… metaphysical." Le Devoir (for album L'Amant Confesseur; tr)
Dana Whittle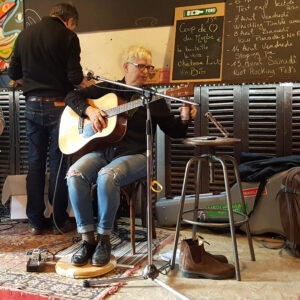 A composer, singer, guitarist, bassist and foot percussionist, Dana offers a taste of the unique cultural mélange of her New England folk roots and her experience as an American transplanted into the heart of the traditional Québécois music scene. A 20-year+ resident of Sainte-Béatrix, Québec, she is most often seen with husband-fiddler Claude Méthé (duo Zigue). Dana has performed Québec traditional music almost exclusively since the early '90s. She was born in Massachusetts into a singing family – her grandmother sang with the New York Metropolitan Opera and recorded gospel 78s on the Okeh label in the 1920s. Dana is founder and ex-president of Folquébec, Québec's first organization dedicated to the international promotion of folk music made in Québec.
Ken Pearlman and Janine Randall -

Ken on 5 string banjo, Janine on piano.

-
Jam session 5PM, followed by potluck dinner (bring a dish or a beverage). Concert 7-9PM
Donation $20 (kids $10)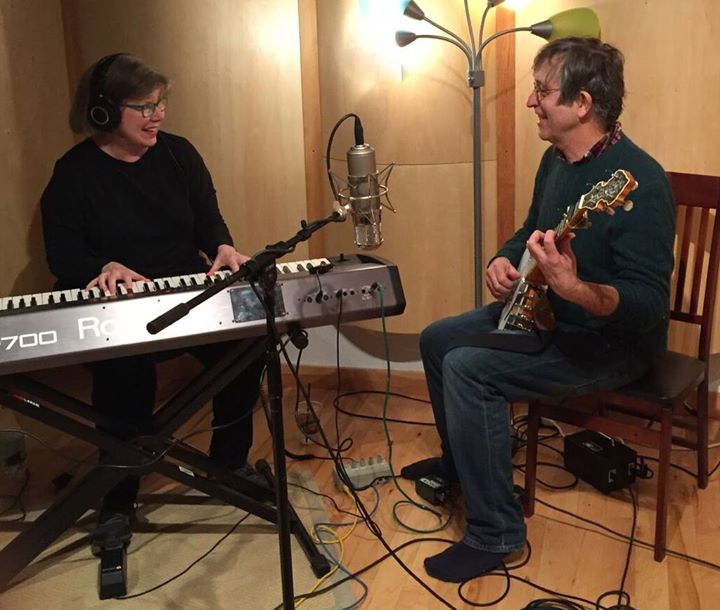 Ken Perlman & Janine Randall present fiddle-music from Prince Edward Island, Cape Breton & elsewhere on clawhammer banjo and piano, as represented on the new CD Frails & Frolics. Ken is a pioneer of the 5-string banjo style known as melodic clawhammer; he is considered one of the top clawhammer banjo players in the world, known in particular for his skillful adaptations of Celtic, Appalachian, & Canadian fiddle tunes to the style. Also an independent folklorist, Ken spent close to two decades collecting tunes and oral histories from traditional fiddle players on Prince Edward Island in Eastern Canada; he fell in love with their music and has successfully captured its sound and spirit on his instrument. Janine grew up in a home steeped with traditional Cape Breton music and learned the art of Cape Breton style piano accompaniment from her mother, who often played for such fiddling notables as Angus Chisholm, Johnny Wilmot and Bill Lamey. She herself founded the Ceilidh Trail School of Celtic Music devoted to teaching Cape Breton fiddle, piano and dance, and has toured with such well-known contemporary players as Jerry Holland, Brenda Stubbert, Andrea Beaton, and many more. Also an independent researcher, Janine has presented papers on Cape Breton fiddle and piano style in Aberdeen Scotland, St. John's NFLD, and Derry Ireland. Together they create a new take on a powerful music tradition.
"Listening to Ken Perlman fly through a set of dance tunes provides a masterclass on the melodic possibilities not often explored on the five-string banjo. The tunes showcase Perlman's immaculate playing style. It's truly a marvel how he can manage to sound all notes of a fiddle. His triplets and trills are masterful. . . Perlman is accompanied by Janine Randall on piano; there is something delightful in the interplay between Perlman's banjo and Randall's piano in this particular style of music. The banjo-piano duets are playful and airy . . ." (Glory Beaming Banjo Blog)
Friday, November 16, 2018 -

Alex Kehler & Nicholas Williams -

Nyckelharpa (Swedish keyed fiddle), wooden flute, accordion, more!!
Jam session 5PM, followed by potluck dinner (bring a dish or a beverage). Concert 7-9PM
Donation $20 (kids $10)
Here's something "else" a little different!
These two accomplished multi-instrumentalists share a passion for music rooted in Scandinavian and Celtic traditions. They play at times with the raw energy of dance musicians, and at others with the subtlety of a chamber ensemble, with rich vocal harmonies thrown into the mix. Nyckelharpa (swedish keyed fiddle), wooden flute, piano and button accordions, fiddle, piano, and låtmandola are all featured in their colorful musical palette. These two musicians from the Eastern Townships in Quebec have vast teaching experience and can be found leading workshops and master classes on festival stages and at music camps. Their debut CD First Frost with the collaboration of Yann Falquet was released in October 2015. This is going to be a REALLY FUN time!! come on out!

Reservations are encouraged for all concerts, to reserve a seat or for more info: pam@pamweeks.com
, or call 207-666-3709